Blog > How we got a perfect 10/10 mail-tester.com score
21 december 2020 - klik hier voor de Nederlandse versie
Recently, a number of improvements have been made to the back-in-stock e-mails, as well as how they are sent to visitors of your Lightspeed eCom webshop. This makes the e-mails as they are set by default in Inventory Alarm, a good basis for delivery so they won't end up in the spam folder. These tips can also be used for your other marketing e-mails.
When it comes to email delivery rates and tracking improvements to your e-mails, you can use mail-tester.com to check if your e-mail is properly structured. This very useful service tells you exactly where you can make improvements. This concerns both technical aspects, but also the content of your e-mail.
A number of things have been adjusted for Inventory Alarm after we have tested the e-mails as they are set by default.
Ultimately, the standard e-mail as it appears in your account immediately after installation received a 10/10 score! Admittedly, mail-tester's algorithm is slightly different almost every week, last week it was a 9.5 / 10. Still a very high score!
I will briefly discuss a number of things that have been adjusted in order to achieve such a high score.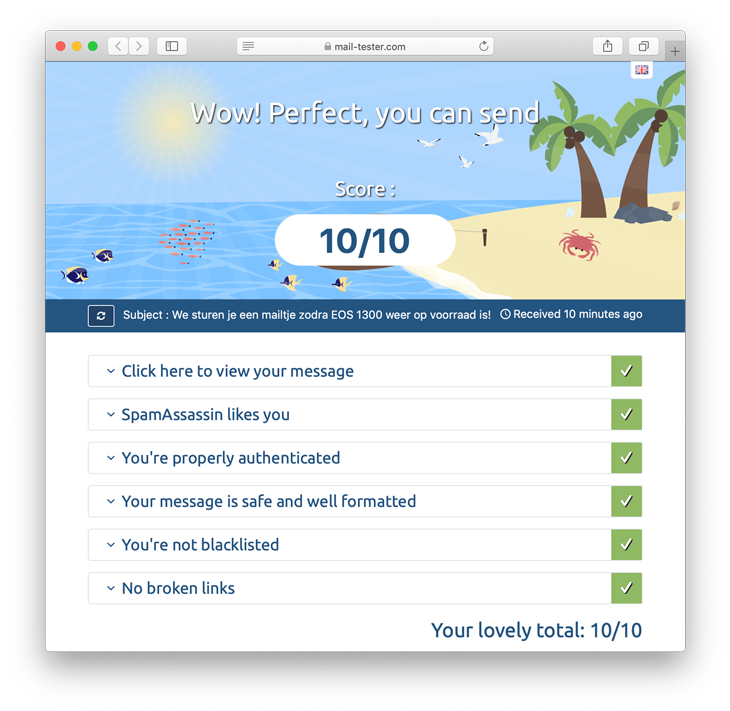 SpamAssassin likes you
That message is always nice to see. SpamAssassin is the main anti-spam software used by Internet / e-mail providers to assess incoming e-mails and possibly mark them as spam.

SpamAssassin looks at specific things in your e-mail, and you get plus or minus points for each part. The great thing about mail-tester.com is that you get to see per point what is good or what could be improved. So this is a list that you can check off.
Funny, I usually get comments that the regular e-mails I send to people are too long, but SpamAssassin prefers to see a longer e-mail if there is also a picture in it. Overall the SpamAssassin score is still excellent.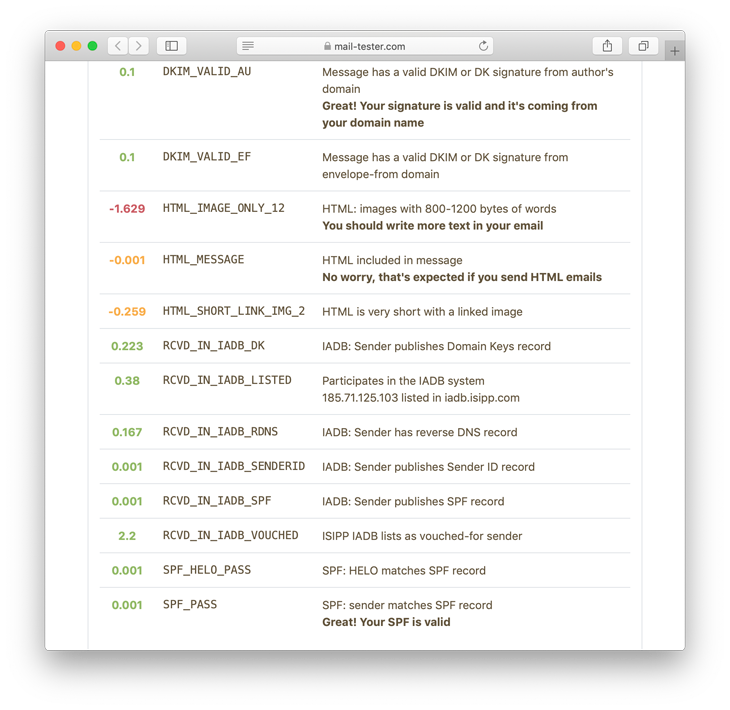 Your're properly authenticated
You have already seen the magic words in the Inventory Alarm dashboard: SPF and DKIM. These are techniques aimed at providing certainty that the sender of the e-mail is actually who he says he is.
As soon as you have provided your domain name with the correct DKIM and SPF info via your provider's DNS in the dashboard, you can use your own domain name as sender of Inventory Alarm e-mails.
For each domain name we use a unique DKIM key from Rapidmail, and for SPF we also make it easy for you: where we first used the standard SPF TXT record with your provider (and that continues to work, by the way), we have switched since a month to an even better option: an SPF record that Inventory Alarm offers you, you can add a CNAME record for SPF as stated in the DNS instructions. This does not make your own SPF TXT record any bigger than it often already is.
With this, Inventory Alarm sends the e-mails from the inventoryalarm subdomain of your domain, a so-called custom return path. In this way, both the SPF is arranged for the Inventory Alarm e-mails, and any bounces are captured. And the authentication is well organized thanks to the match domain - subdomain.
Your message is safe and well formatted
Here were two things that we recently improved on the default e-mail templates on December 3, 2020:
Alt attribute was added to the product image
This was missing from the default e-mail templates, and has recently been adjusted. This ensures that when no images are shown in the e-mail client being used, a text appears with a hint as to what the image is about.
The e-mail content has included an unsubscribe link for a while now, in case someone changes their mind and still doesn't want to receive a back-in-stock e-mail.
However, there's a standard format with which this unsubscribe link, supplemented with a mailto link, can be placed in the e-mail header. The end user will of course not see those headers, but the e-mail client looks at them.
Often a neat unsubscribe link is displayed at the top of the email with the sender, Litmus has written a nice blog post about how this works. E-mail programs decide for themselves whether and for which domains they show this. Of course, the unsubscribe link in the e-mail body itself is always shown.
You're not blacklisted
The servers used to send the e-mails are still SendGrid servers for a number of Inventory Alarm customers. For more recent customers, and customers who have already switched to Rapidmail, Rapidmail mail servers are used.
Because SendGrid has a free version that allows for quite a few e-mails to be sent out, it is unfortunately also used by spammers… therefore the (shared) IP addresses of SendGrid regularly appear on blacklists, which also marks your e-mails as spam. After all, they come from the same IP address.
Every reason, if possible, to go for a dedicated IP address with your e-mail marketing provider, or choose an e-mail marketing provider that keeps spammers from the platform, and in any case does not offer free e-mail accounts. This is another reason why using Rapidmail was a good choice.
No broken links
This seems obvious, but I have seen several times that there are dead links in e-mails, especially when a template is copied from another e-mail marketing platform that web shops use. These can be links in the footer of your e-mail to a non-existing page, such as an old contact page or non-existing privacy policy. But this can also be a non-existent image, which is embedded and you do not immediately see that it no longer exists, such as something in your e-mail footer.
Add both a plain text and html version of the email
Almost everyone uses an e-mail program that can display e-mails with html formatting. Still it is good to also add a plain text version. An e-mail message is actually like an envelope where you can put things in: a sender, recepient, but also subject, html version and plain text version of the e-mail.
E-mail clients that support html (in reality I think more than 99% of people use an html e-mail client) will show the html version. You can edit this html version in the Inventory Alarm e-mail editor.
However, if you also add a text-only version, your email will be less likely to be classified as spam. After all, spammers often don't take the trouble to include a plain-text version of their e-mails.
Inventory Alarm always sends a plain-text version of the standard e-mail embedded in the e-mail as well. You cannot edit this as a user of Inventory Alarm. In reality (almost) nobody will read that version. It is mainly for a good e-mail score.
If you still want to see the plain-text version, download a plain-text e-mail client.
Tip: use the improved default e-mail templates
In the Inventory Alarm dashboard you can use the improved default email templates by selecting "Reset to defaults" on both templates.
A change has also been made to this, so that you will also see a placeholder image when viewing and adjusting the template.
By the way, even if you keep using the old templates, all improvements will work with the old templates as well, with the exception of the alt attribute of the product image.